Christmas Letter 2009
Happy New Year from the Bonefeld's 2009
We wish you a happy New Year from Birkerød which is becoming a world known little city. The city of only 30,000 people where Lotte Friis recently set a new world swimming record in her home club. The same lane where Katrine swims with the preschool every Friday – not at the same speed but certainly with the same enthusiasme and joy. The city where the world's number 4 Caroline Wozniacki paid her old local tennis club a visit and Carl got the opportunity to play a few balls with her ….his room is now decorated with posters signed by her.
<![if !vml]>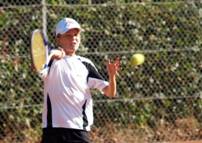 <![endif]>Carl spends a great deal of his spare time playing tennis 2-3 lessons a week + time with his friends in the club. He plays tournaments and it is exciting to see how he slowly crawls up the rank. When he doesn't plays tennis he plays soccer, hangs out at the local youth club and does lots of finger gymnastics with Facebook and World of WarCraft..... <![if !vml]>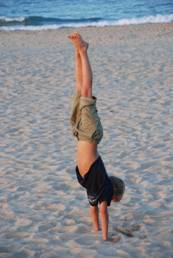 <![endif]>
Speaking of gymnastics – Katrine and Gustav have both taken this up. They fly through the air doing forward and backward saltoes while I just comfort myself with the fact that it is only once a month that parents are allowed to watch the some what hair-rising activities…… I tried this kind of gym last year and it was actually quite fun but my brain blocked......my speed reduced enormously as I got closer to the trampoline and the object that I was supposed to fly over….... I stick to the local fitness centre where I can just manage a couple of hours spinning on the bikes.
<![if !vml]>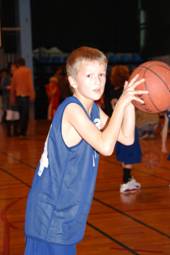 <![endif]>I think Kristen is living out his dream of playing basketball through Gustav. With his 150 cm (he is only 8 years old), he definitely has an advantage and he dreams about playing for the American Lakers Team. This year's big Christmas present favorite was his first real Lakers basketball t-shirt and shorts – now he just "can't live without " a t-shirt for the Build-a-bear teddy….
Kristen changed role during spring at SimCorp and now he is responsible for designing and developing a new functionality which will be released during this year. He has put many hours into his work but has been able to squeeze in a weekly game of squash with his colleagues and one evening where he cooks for just the two of us J.
<![if !vml]>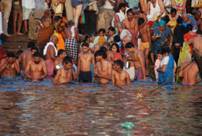 <![endif]>Back in February Kristen and I were fortunate and were able to travel by ourselves back, where we went to India and experienced heaps: New Delhi, welcoming people, overwhelming Taj Mahal, delicious Indian food – and no Delhi-belly, River of Ganges, beautiful women in saries and in my opinion driving that was too exciting to my liking…. – several times I thought my children were going were going to loose their parents. While we were away our parents on both sides took 6 days each looking after the children.
<![if !vml]>
<![endif]> In July Kate and Robert visited us and it was really great to see them and catch up again J. We all enjoyed sight-seeing around Copenhagen: Canal tour of Copenhagen, the dungeons of the spooky Hamlet Castle in Helsingoer, the Bellevue beach where we experienced the Danish natural way when it comes to swim wear or "swim wear not" ;-), Tivoli Gardens and just each others company.
<![if !vml]>
<![endif]>During summer the whole family relaxed along the coast of the Black Sea in Bulgaria for two weeks. We hired a car and stayed at 3 different places along the coast. Lots of swimming in pools and in the crystal clear sea, plenty of very cheap ice creams, soft drinks and french fries – the kids thought they were on vacation with a new family ;-).
Back in January I started at a consultancy that implements Microsoft Dynamics Navision (ERP systems) as project manager and I have learnt a lot about this enormous piece of software, about being thrown out in the middle of projects that are sinking and the fact that I chose this career shift after many years as an PM within another field ….it takes time but I hope that by the end of 2010 I should be almost back at full speed.
Right now...as if we are bored.....we are approaching a renovation and extension of our house. We are working with an architect and hopefully we should be able to get our drawings approved by council so we can start digging in March/April. Our plan is to extend our house with a living room, parent bedroom + bathroom, a new staircase and knocking down a few walls and putting new ones up here and there so that everybody gets their own room! We are going to live-in while this takes places….so I hope we survive!
We wish you all a very happy New Year and love from us all J
Kristen and Christina
<![if !vml]>
<![endif]> <![if !vml]>
<![endif]> <![if !vml]>
<![endif]>
Katrine 5 Gustav 8 Carl 12
Merry Christmas from Christina, Kristen, Carl, Gustav and Katrine